ALL VERSIONS OF THE BOOK ARE NOW SOLD OUT. 
If you'd like to join our waitlist to be notified if more copies become available, please click here.
---
REBIRTH OF A CLASSIC:
OUT OF PRINT FOR MORE THAN A DECADE,
The Monkees: The Day-By-Day Story
RETURNS!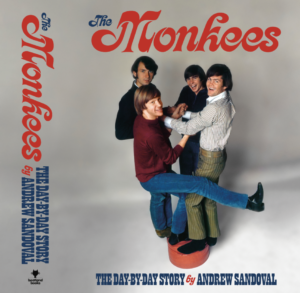 First published in 2005, Andrew Sandoval's The Monkees: The Day-By-Day Story is the definitive reference source for the history of Michael Nesmith, Davy Jones, Micky Dolenz and Peter Tork. Now completely rewritten, redesigned and substantially expanded to more than double the original content, the new editions of the book (which cover the years 1942 to 1970) spans 740 pages. Lavishly illustrated in full color and printed at the highest quality in three unique configurations, copies of The Monkees: The Day-By-Day Story are now available for preorder from Beatland Books.
The Monkees: The Day-By-Day Story explores all of the band's recording dates (with full session personnel) based on a first-hand, real time review of their unissued session tapes and internal recording documents, plus the American Federation of Musicians' historic contracts. The Monkees series shooting dates and those for the feature film Head are also presented with reproductions of unpublished stills and unique call sheets. The book further captures every concert appearance made by the Monkees or its members, as well television and radio appearances.
The product of four decades of research, The Monkees: The Day-By-Day Story features exclusive and previously unpublished interviews with the group and their associates conducted over a 32-year period by author Andrew Sandoval. The diary format reveals thousands of pages of newly discovered legal documents, internal memos, contracts and contemporary news reporting. Hundreds of images (many previously unpublished) are gathered together for the first time to take you through the story visually.
Even if you own every Monkees reissue, have collected every book about the group and can access further information on the Internet, you still will not have the material contained in this edition.
The Monkees: The Day-By-Day Story is singularly the largest and most extensive study of the group ever published.
Available in limited numbered and signed hardback editions, as well as an unnumbered soft cover edition, the book will be printed on archival matte paper and delivered in a custom Monkees box. The Monkees: The Day-By-Day Story is available directly from Beatland Books ONLY and will NOT be offered in a digital download version.
Don't miss this opportunity to own a true piece of history. Original editions of The Monkees: The Day–By–Day Story now resell for four times the 2005 cover price. This is the one-and-only printing of the extremely limited hardback edition, the ultimate collectible for every Monkees fan.